Residents of a tower block in east London say they complained about fire alarms and a "stay put" policy before a major fire broke out.
Dozens were evacuated from the Relay Building in Whitechapel High Street on Monday after a blaze.
Flames could be seen fanning out of the 17th floor of the tower block, and footage showed burning debris falling to the ground.
The cause of the fire is still under investigation.
A number of residents said they could not hear any fire alarms sounding on the floors of their flat during the blaze.
Andrew Meikle said residents have complained several times about both the alarms and the "stay put" policy to the three different companies that manage the building – John D Wood, Network Homes and Rendall and Rittner.
He said: "There have been complaints about fire alarms, the 'stay put' policy and the high risk of fires on the wooden balconies, and guess what was burning? The wooden balconies."
The 58-year-old added that with three different companies managing different parts of the building, there was a "scrambled" chain of communication when it came to their complaints.
Mr Meikle said there had been previous small fires, including one in December where the fire alarms were also not heard.
"When the 'stay put' policy fails, alarms should be put in to tell people to get out," he added.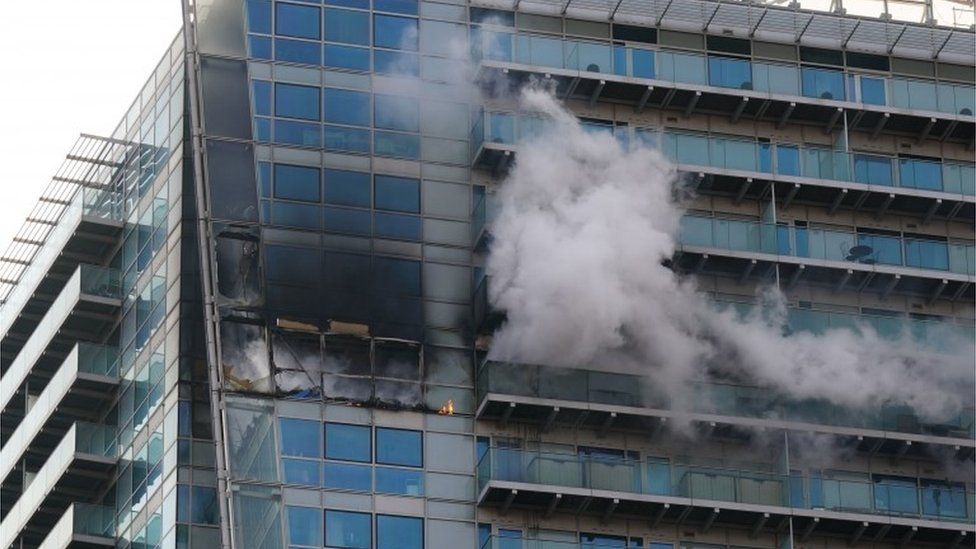 London Ambulance Service said two patients were taken to hospital while two others were checked over at the scene.
The blaze, which was put out at about 19:00 GMT, also affected balconies on the 18th and 19th floors.
Younus Hussein, 61, who lives on the seventh floor of the building, said he also did not hear any alarm.
"If I did not hear the persistent knocks of my neighbours, I would probably still be asleep," he said.
Network Homes, John D Wood and Rendall and Rittner have been contacted for comment.