The head of the World Food Programme, David Beasley, has warned the conflict in Ukraine could send global food prices soaring, with a catastrophic impact on the world's poorest.
Ukraine and Russia are both major exporters of basic foodstuffs, and the war has already hit crop production, driving up prices
Mr Beasley said it was putting more people at risk of starvation worldwide.
"Just when you think hell on earth can't get any worse, it does," he said.
Russia and Ukraine, once dubbed "the breadbasket of Europe", export about a quarter of the world's wheat and half of its sunflower products, like seeds and oil. Ukraine also sells a lot of corn globally.
Analysts have warned that war could impact the production of grains and even double global wheat prices.
Mr Beasley told BBC World Service's Business Daily programme that the number of people facing potential starvation worldwide had already risen from 80 million to 276 million in four years prior to Russia's invasion, due to what he calls a "perfect storm" of conflict, climate change and coronavirus.
He said certain countries could be particularly affected by the current crisis, due to the high proportion of grains they currently import from the Black Sea region.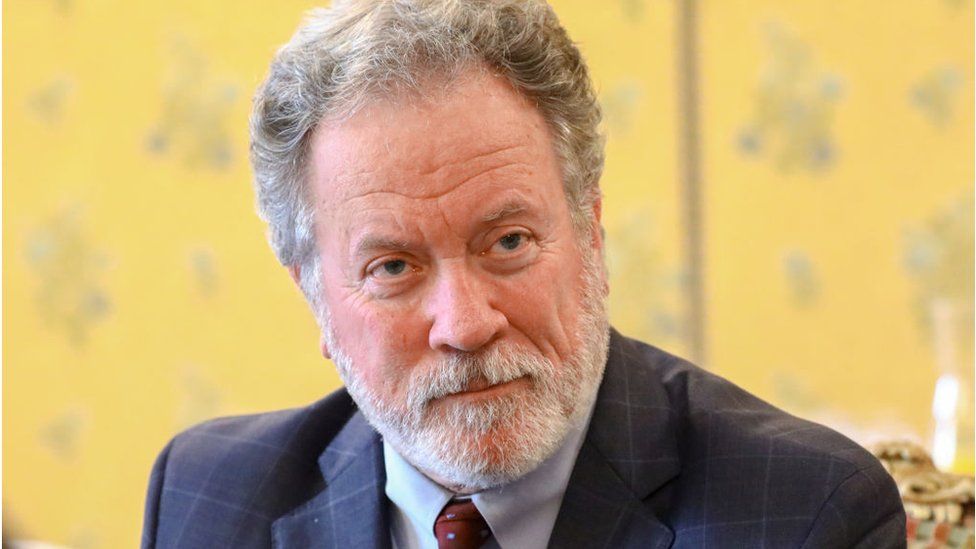 "The country of Lebanon, 50%, give or take, of their grains, come from Ukraine. Yemen, Syria, Tunisia – and I could go on and on – depend on the country of Ukraine as a breadbasket," he said.
"So you're going from being a breadbasket to now, literally, having to hand out bread to them. It's just an incredible reverse of reality."
'Defending our land'
Norwegian chemical company Yara International, a major fertiliser producer which operates in more than 60 countries, told the BBC a shortage could badly hit crop yields, leading to "a global food crisis".
Ukrainian lawyer Ivanna Dorichenko, an expert in international trade arbitration, said some farmers in Ukraine have already abandoned their fields in order to take up arms against the Russian invasion.
She told the BBC: "The men who need to work on the land, they're all defending our land right now. Because if they do not defend the land, there'll be nothing to work on at a later stage, and you don't have a single person right now who's not trying to help in any way they can."
Ms Dorichenko said the war had wreaked havoc with supply lines typically used to export agricultural produce. Ukraine's military suspended all commercial shipping at its ports in the aftermath of the Russian invasion.
"The vessels cannot leave the waters, the vessels cannot get loaded. It's effectively a war zone. Sadly, there's nothing which can be potentially shipped right now from Ukraine."
She said it meant "huge losses" for businesses, but also humanitarian efforts, because Ukraine could no longer send goods to regions such as South East Asia, the Middle East and Africa, as well as to groups such the World Food Programme.
With food price inflation already at crisis point in some countries prior to the outbreak of hostilities in Ukraine, South African economist Wandile Sihlobo said he was worried about the potential consequences for grain-importing nations in Africa and beyond.
Mr Sihlobo, chief economist at the Agricultural Business Chamber of South Africa, told the BBC that while steep price rises may be a problem in the short-term, shortages of essential crops could follow.
"Over time, depending on the length and the severity of this war, you could begin to see shortages of shipments that come to the African continent, and that could cause shortages. Particularly in the North African countries, and to an extent in East Africa."
He added: "If you were to look at the global food price index, it was at multiple highs at the start of this year. This crisis already adds to that difficult environment for many consumers, particularly in the developing world."
On Monday, one of the world's biggest fertiliser companies, Yara International, warned the conflict could hit its industry, further affecting food prices.
Fertiliser prices had already been rising due to soaring wholesale gas prices. Russia also produces enormous amounts of nutrients, like potash and phosphate – key ingredients in fertilisers, which enable plants and crops to grow.