Workers are refusing to unload Russian oil from a German-flagged ship, which is moored at a major British oil refinery.
The Seacod vessel is berthed near the Stanlow Oil Refinery in Cheshire.
The UK government has banned ships with "any Russian connection" from entering its ports due to the country's invasion of Ukraine.
However, the Unite union said cargo was not included in the ban and has called for ministers "to close this loophole".
Stanlow operators Essar said a German-flagged vessel was granted approval to berth by the Port Authority on Thursday.
A spokesperson for the refinery, which supplies 16% of road transport fuels in the UK, said Essar "remained deeply concerned by the humanitarian crisis unfolding in Ukraine" and was "fully complying with the statutory framework implemented by the UK government with regard to Russia-related entities".
The firm said it had turned away Russian-flagged tankers earlier this week.
It added it had been "working urgently to find alternative sources of diesel while simultaneously ensuring uninterrupted supply of fuel to the North West of England".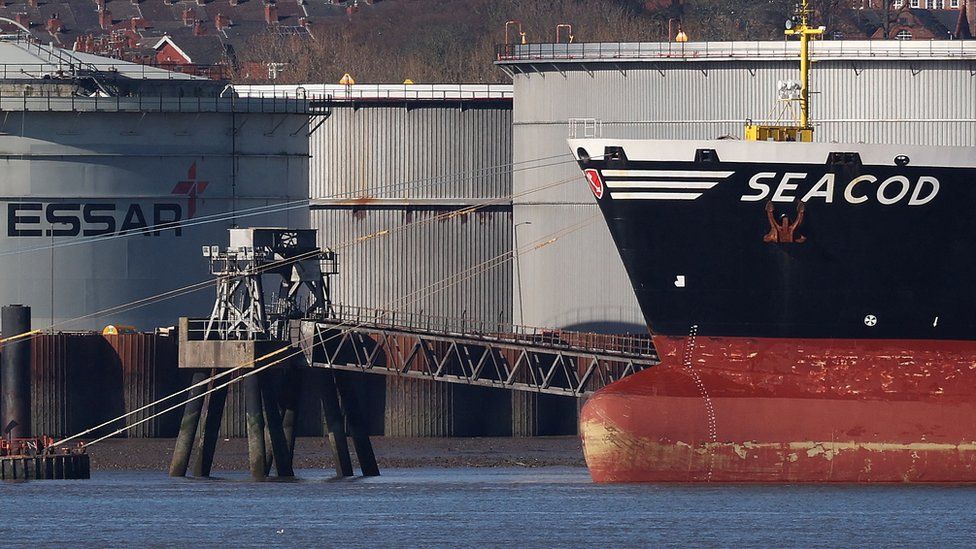 Sharon Graham, general secretary of Unite, said they had informed the company that "Unite workers at the facility will under no circumstances unload any Russian oil regardless of the nationality of the vessel which delivers it".
Following the Russian invasion of Ukraine, the UK became the first country to ban all ships that are Russian-owned, operated, controlled, registered or flagged from entering its ports.