More than 100 workers at Ukraine's Chernobyl nuclear power plant – the site of the world's worst nuclear disaster in 1986 – have been stuck there for more than 12 days, unable to leave after Russian forces seized the plant on the first day of the invasion.
Another 200 Ukrainian guards, who'd been in charge of security at the time of the assault, also remain trapped.
Workers continue to go about their duties and the atmosphere is said to be calm, but the BBC has been told that the conditions inside are difficult, with food and medicine limited.
There are also growing concerns that stress could be impacting their ability to safely carry out their duties at the nuclear site.
'Complicated and tense situation'
Russian soldiers are now inside the 32km (19 mile) Chernobyl exclusion zone and have surrounded the perimeter of the plant.
Russia says it has secured the site jointly with the Ukrainian national guard, but Ukraine disputes this and says Russian troops have full control.
The relative of one of the workers stuck at the plant – who we are not naming for safety reasons – told the BBC that the Russian side was willing to let them swap shifts, but that they could not guarantee their safety on the journey home, nor of workers travelling to take their place.
The train between Slavutych and Chernobyl travels briefly through Belarus, a major Russia ally.
Although no longer a working power station, Chernobyl was never fully abandoned and still requires constant management. In fact, after reactor number four exploded 36 years ago, its other reactors continued to operate for a few years, and a whole town – Slavutych – was built to house workers who were evacuated after the accident.
These days, around 2,400 people still work at the site: scientists, technicians, cooks, medics and other support staff, plus members of the national guard.
In normal times, workers would board a train from Slavutych at the start of their shift, and return home afterwards. But for the employees who were there when the Russians invaded, everything suddenly changed – they were forced to live on site.
"The situation is complicated and tense," Yuri Fomichev, Mayor of Slavutych, told the BBC. "It is difficult for them morally, psychologically and physically."
The workers do have some food on site, but because they don't know how long they will be there for, they are limiting themselves to one meal a day (prepared by cooks who are also stuck), and the food is said to be basic – mainly bread and porridge.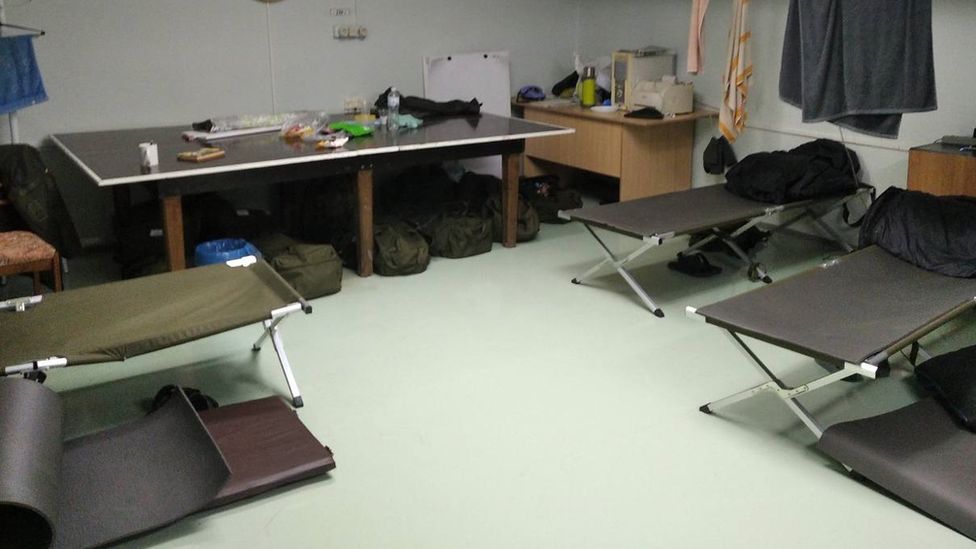 On Sunday, Russian personnel offered a delivery of food, but the Ukrainian workers turned it down, saying it was a propaganda stunt.
The facilities are not set up for sleeping, so temporary dormitories have been created, with some sleeping on camp beds and tables, others on the floor.
In order to get some down-time, the workers have split themselves into shifts, with one group working while another rests.
For the employees' families in nearby Slavutych, it is a difficult time.
"Some of the workers require medication which is limited at the plant, and that adds extra worries for the relatives," said Mr Fomichev.
"We have to tell them that there is currently no safe way of getting the workers out of there."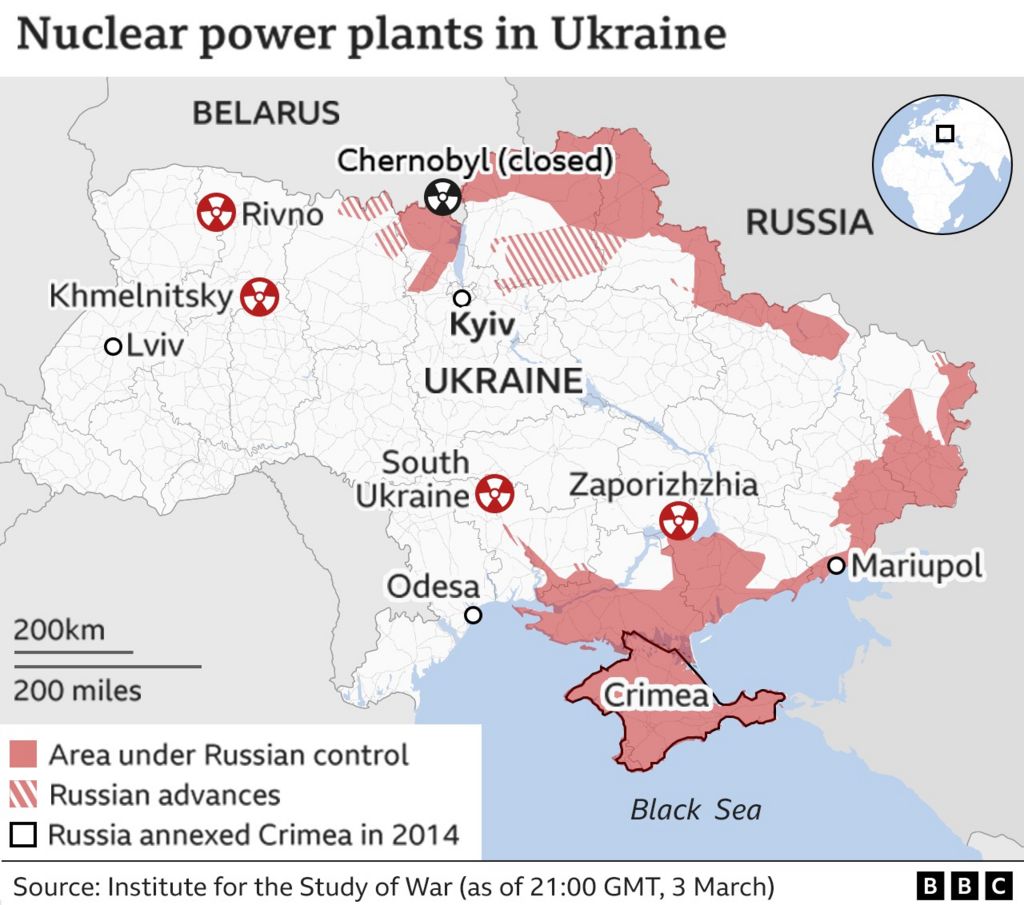 Is the Chernobyl site at risk?
With workers feeling the physical and psychological effects of nearly two weeks stuck at work on a decommissioned nuclear power plant, there are fears that the stress could be impacting their ability to safely carry out their duties.
"Under these conditions, the workers' concentration gets worse and worse, and that is a threat to safety," said Mayor Fomichev.
"It may not be a working power plant, but it still requires a lot of attention to make sure all systems are working normally," he added.
The director general of the International Atomic Energy Agency (IAEA), Rafael Grossi, has repeatedly stressed the need for staff to be able to rest in order to carry out their jobs safely, and in an interview with the BBC he said he had been in touch with the Russian side to communicate that message.
But nuclear experts say that because this is not an active nuclear power plant, the danger to public health is limited.
"It's not good that people aren't changing shift and that people are working with Russian soldiers around them, but I don't see a big danger," said James Smith, Professor of environmental science at the University of Portsmouth, who has been studying Chernobyl for many years and has been to the site many times.
"The last reactor shut down in the year 2000, so the spent nuclear fuel… is not significantly heat-generating any more," he said, explaining that this makes it extremely unlikely that a major release of radioactivity could occur.
Radiation levels did spike in the region when the power station was seized, due to heavy military equipment disturbing the contaminated dust around the site. However, Professor Smith said they did not rise to concerning levels.
Exhaustion and desperation
The risk of a major nuclear catastrophe may be low, but for the workers stuck inside and their families the emotional cost is very real.
"All the staff are super exhausted and desperate. They doubt that anyone cares about them. Right now they don't see anyone doing anything to rescue them," the relative of one employee said.
In a BBC interview, she appealed to the IAEA to intervene so the current workers could safely leave, with another group taking over.
IAEA chief Rafael Grossi said he was in contact with the Ukrainian and Russian sides in an attempt to manage safety both at Chernobyl, and at Ukraine's active nuclear power plants, where experts say the consequences of open conflict could be more serious.
However, nothing definitive has been agreed.