Groups across Scotland collecting donations for Ukraine are facing logistical challenges in getting the goods to those in need.
Organisers face red tape to get shipments though customs and some are fundraising to pay for transport costs.
Charities have appealed for cash donations so they can get the right help to people quickly.
The Disasters Emergency Committee (DEC) in Scotland has raised more than £6m in the first day of its Ukraine appeal.
Many groups who asked for essential supplies for people fleeing their homes in Ukraine since the Russian invasion last week have been so overwhelmed that they have already stopped taking donations.
Askay Goenka has been helping organise a Glasgow collection of donations for refugees in Poland.
About eight 7.5 ton lorries were taken to the Hindu Mandir Temple in the city's west end before they had to ask people to stop donating.
He was moved to get involved after a Polish friend started an appeal.
"Everybody wants to do something to help," he said, adding that people were "shocked" and "touched".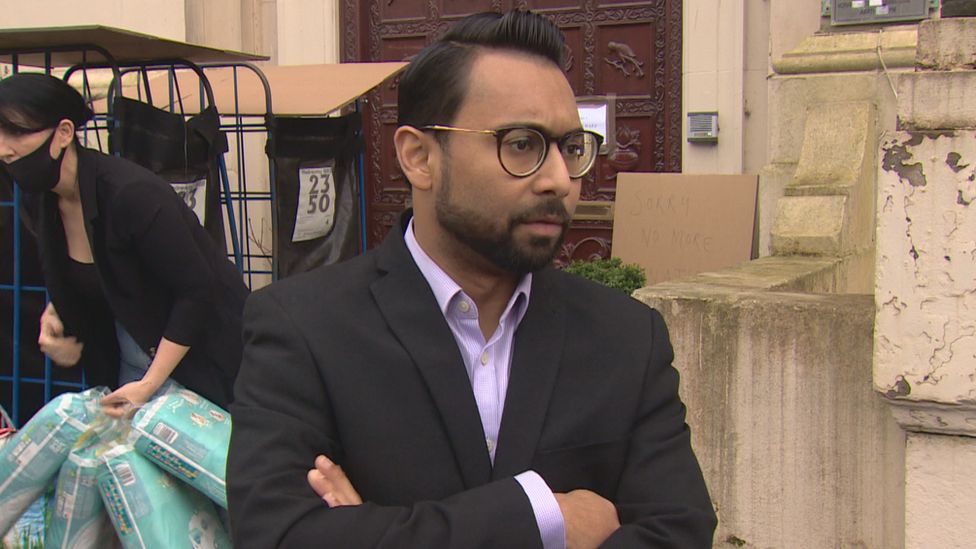 He said the "amazing" response to their initial appeal had become "extremely difficult to manage".
He said donations and volunteers had come from as far as Oban and Fife after their Helping Ukraine appeal on social media.
They have had to pull in many helpers to deal with the challenge of sorting enormous quantities of donations.
Brexit rules mean every item being transported through the EU from the UK has to be accounted for.
Fellow volunteer Debbie Stevenson said they initially had no idea how hard it would be to deal with the bureaucracy of transporting goods out of the UK.
"A bag with white t-shirts has to say '100 white t-shirts'. The code for that is different from a white sweatshirt," she said. "This is where you get tied up. It's not as easy as chucking it in the van and driving off."
The group is now trying to raise £15,000 to cover the haulage costs of transporting the goods.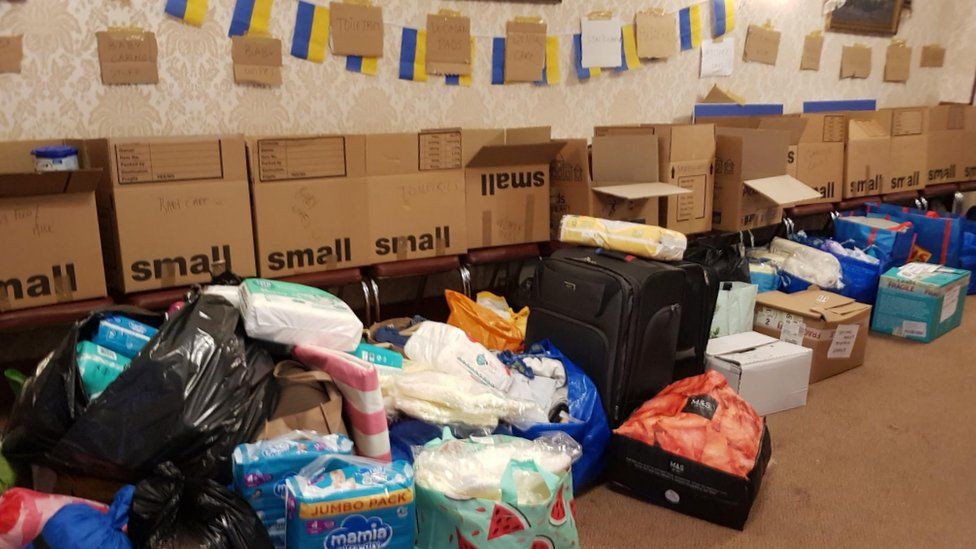 Other groups are continuing to collect essential items to be taken to Ukraine, including Edinburgh Ukraine Club, which had 30 volunteers helping to sort donations on Friday morning.
Donations have continued to "flood in" during the week.
'Red tape was horrendous'
Staff at Mossgiel Organic Farm in Ayrshire quickly gathered donations, but after one lorry load of supplies was impounded in France they launched a petition calling on Boris Johnson to make it easier for donations to get through.
They wrote: "Due to Brexit laws, we are facing huge amounts of red tape – documents, codes etc that we just cannot wait days or weeks to organise."
The first lorry from Mossgiel farm finally arrived in Poland on Thursday after French officials offered a "massive amount of help" with the paperwork. Two more lorries were expected to cross the Channel on Friday.
Farmer Bryce Cunningham said it took 200 phone calls to work out how to get the donations across the English Channel.
"The red tape was horrendous," he said. "Initially I had just been asked to fill a couple a vans to meet a lorry in Glasgow on Sunday night.
"We're a farm with a few vans and a couple of sheds to store things."
Once word got out that they were collecting donations for a Polish charity, they were overwhelmed.
Mr Cunningham said: "When the lorry got to customs [in France] the paperwork wasn't right – we hadn't declared every single item. It is down to the last toothbrush."
He said they had managed to sort paperwork for the next two deliveries with the help of Ukrainian officials.
"The only reason we're getting things across is because we're working with Ukrainians," he added, pointing out that their deliveries were being made by Ukrainian drivers in Ukrainian trucks.
They have stopped taking donations and have urged people to donate to the Disasters Emergency Committee appeal.
'Phenomenal response'
Other charities have focused on using financial donations to get essentials to refugees.
International aid charity Glasgow The Caring City thanked the public for £20,000 of donations after it sent its second load of aid to the Ukraine/Poland border.
Partner businesses, such as SoapWorks, helped provide 30,000 self-heating meals, 10,000 litres of bottled water and 50,000 hygiene packs to an aid station inside Ukraine.
Ukrainian Yuriy Kachak, who runs the Deanston Bakery in Glasgow, told BBC radio there had been a "phenomenal response" to his bake sale on Sunday.
All the money raised will be donated to charities helping Ukrainians affected by the conflict.
Regional appeals have also been launched, including by The Lord Provost's Charitable Trust in Aberdeen.
Donations 'can obstruct supply chains'
The official UK government advice is that it is better to donate cash through trusted charities and aid organisations rather than supplies because it can be transferred quickly and used to buy what is most needed.
"Unsolicited donations of goods, although well-meant, can obstruct supply chains and delay more urgent life-saving assistance from getting through," the GOV.UK website said.
But it adds that organisations are gathering essentials and charities with experience of responding to disasters are best placed to reach victims on the ground.
The Scottish government has already committed £4m to Ukraine, including medical supplies and a £500,000 donation to the Scottish Catholic International Aid Fund's Ukraine Appeal.
An additional £1.2m worth of NHS Scotland aid, including ventilators, bandages and syringe pumps, will be flown from Stansted Airport to Poland on Sunday for onward transport to Ukraine.
Sciaf said funds would go "directly into the hands of local humanitarians on the ground in Ukraine".
'Scale up response'
Since the DEC appeal was launched on Thursday, more than £6m has been raised in Scotland.
DEC charities and their partners in Ukraine and neighbouring countries will use the money to "scale up their response" to people fleeing the conflict, and will help provide food, water, medical assistance, protection and trauma care.
Marie Hayes, from the British Red Cross, is leading the Scottish appeal. She said: "While wanting to collect clothes and other items for people in need is laudable, the things people give today may not be what people need tomorrow and aid workers say they can't use much of what is arriving."