Protesters have marched over fears HS2 works could affect water supplies.
Colne Valley Viaduct, the UK's longest railway bridge, will carry the new high-speed rail line for 2.1m (3.4km) across a series of lakes and waterways on the north west outskirts of London.
Protesters in Uxbridge called on Hillingdon Council to do more to protect the local environment.
A HS2 spokesperson said they will work throughout construction to manage risks.
Colne Valley Regional Park contains more than 60 lakes and 200 miles of river and canal, stretching from Rickmansworth in the north to Staines and the Thames in the south, Uxbridge and Heathrow in the east and to Slough and Chalfont in the west.
The chalk aquifer in the Colne Valley is a natural water filtration system.
Over the next year engineers will construct 292 piles under the ground to support the viaduct piers.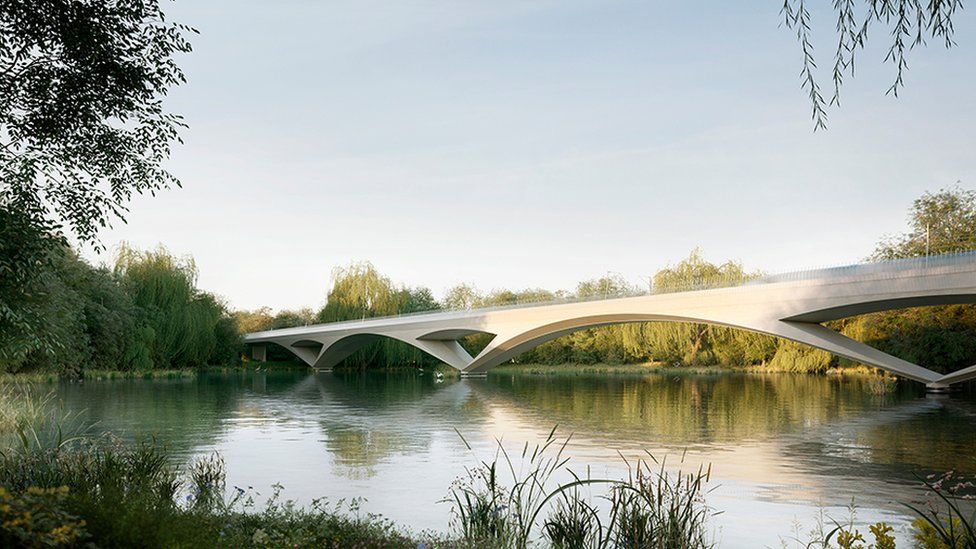 Resident Sarah Green said: "Where they're drilling is the public water supply. It's a drinking water protected area.
"The drilling shouldn't be happening there.
"But with a great big landfill site next to it and pollution already leaking from the landfill site, the odds are not good that public water supply will survive."
Hillingdon Council has previously said HS2 will cause a disproportionate amount of impact with no benefits.
Mark Keir, Stop HS2 campaigner, said: "The landscape has been disappearing – vast woodlands disappearing.
"Thirty-seven thousand trees in the Colne Valley have disappeared for four miles of track – it's just mind boggling."
HS2 said in a statement the continuation of the supply of high-quality drinking water was an "absolute priority", and it was working closely with Affinity Water and the Environment Agency to manage risks.
A spokesperson said: "HS2 take our responsibilities extremely seriously and we have a world-leading team of engineers, hydrogeologists, and environmental scientists in place to ensure that construction affords the right protection for the environment, and is completed as safely and efficiently as possible."