John Bercow was a "serial bully" while House of Commons Speaker, and would be banned from getting a parliamentary pass, a report has said.
The Independent Expert Panel said "his behaviour fell very far below that which the public has a right to expect" from an MP.
It also said his evidence showed he had been "a serial liar".
However, Mr Bercow said the inquiry into the complaints was "amateurish" and based on "tittle-tattle".
Mr Bercow was Speaker of the House of Commons from 2009 to 2019 and presided over a turbulent period during which the House of Commons debated the UK's exit from the European Union.
A report by the Parliamentary Commissioner for Standards Kathryn Stone found that Mr Bercow had displayed "threatening conduct" towards staff, including verbal abuse, and displays of anger.
It said he had "shouted at and mimicked" a member of staff and was responsible for "intimidating, insulting behaviour involving an abuse of power".
She also found he had subjected Lord Lisvane – a senior clerk in the House of Commons – to "repeated unfounded criticism… often made at length and at volume and included derogatory inferences about [his] upbringing and background".
Mr Bercow appealed but the Independent Expert Panel upheld all the findings of the Parliamentary Commissioner for Standards.
'Spite'
The panel said it agreed with the commissioner's findings that Mr Bercow had been "a serial bully".
It added that Mr Bercow's conduct "was so serious that, had he still been a Member of Parliament, we would have determined that he should be expelled by resolution of the House", and that he would be banned from being getting a pass giving him access to Parliament's buildings.
However, in a strongly-worded statement Mr Bercow called the report "a travesty of justice rooted in prejudice, spite and hearsay".
He said claims of misconduct were "upheld even when eyewitnesses testified that they had not taken place", and said he'd been targeted by three former staff members, because he had set out to reform the House of Commons.
Mr Bercow, who resigned as an MP in 2019, said he had never applied for a Parliamentary pass and does not want one, but could still go to Parliament as a guest of another pass holder.
He begun his political career in the Conservative Party but later switched to Labour telling the Observer newspaper: "The conclusion I have reached is that this government needs to be replaced. The reality is that the Labour Party is the only vehicle that can achieve that objective."
Speaking to Times Radio, former Conservative minister Andrea Leadsom said Labour should expel Mr Bercow from the party.
'Genuinely horrible'
The investigations came after complaints from three people who worked for Mr Bercow – Lord Lisvane, the former clerk of the Commons, and private secretaries Kate Emms and Angus Sinclair.
One of the complainants, Ms Emms, said: "I am supremely glad to be vindicated by the report of the Independent Expert Panel."
She said her time working for Mr Bercow had been "the one and only genuinely horrible, undermining and consistently upsetting period of my career" which had led to "stress, anxiety and a loss of confidence".
She said Mr Bercow had failed to show remorse and had instead "blamed the process for being flawed, amateurish and unjust and not even applicable to him".
Responding to the report, the prime minister's spokesman said the government hoped it would give "all those in Westminster confidence to come forward and report their cases and that they'll be fairly heard".
Who is John Bercow?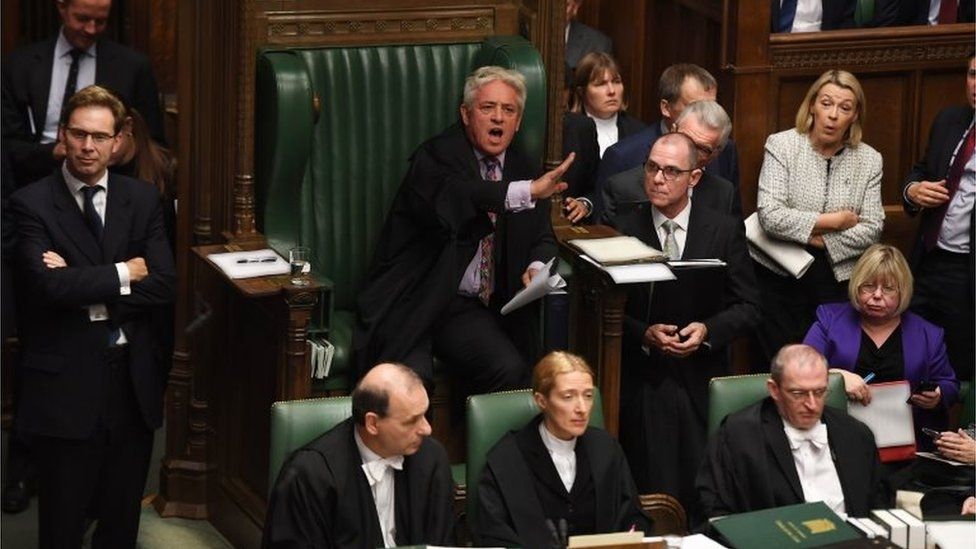 During his decade-long stint as Speaker, Mr Bercow made several changes to Parliament to fulfil his aim to make the House of Commons "less stuffy".
For example, he allowed MPs to speak in the chamber without wearing ties, and removed the requirement for clerks to wear wigs.
He won praise from some MPs for giving backbenchers more opportunities to question ministers.
However, his style drew criticisms from others, and some Conservatives accused him of bias, breaching the requirement that the Speaker stays neutral.
During the fierce Brexit debates, Mr Bercow gained international recognition for his attempts to control Parliament, particularly his loud cries of "order order".